BAK-R25310
---
---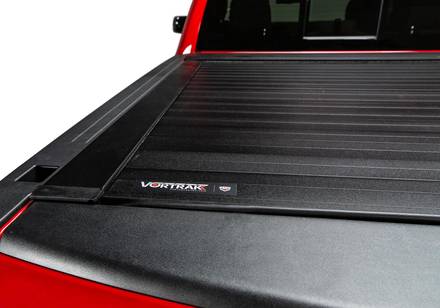 HEAVY-DUTY ALUMINUM DESIGN
The Vortrak uses extruded slats of aluminum that are 1/2" thick for a robust design. The slats form a layer of protection by interlocking together, which also helps keep the elements out of your bed. A matte black powder coat finish deters scratches and UV weathering.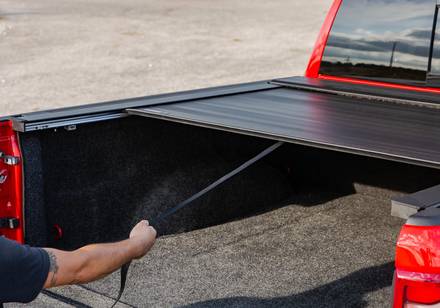 AVAILABLE PULL STRAP
BAK equips the Vortrak with a pull strap located at the rear of the cover for convenient open and closing of the cover.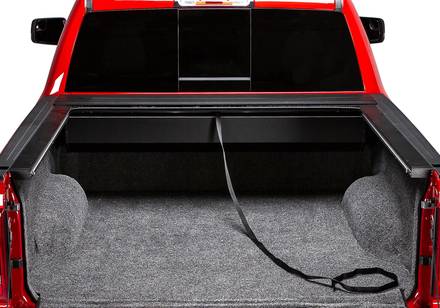 SMOOTH RETRACTING CANISTER
To help assist in opening the Vortrak, BAK makes use of a spring-loaded canister. Not only does the canister help in this, but the compact design of the canister allows for more hauling room in the bed.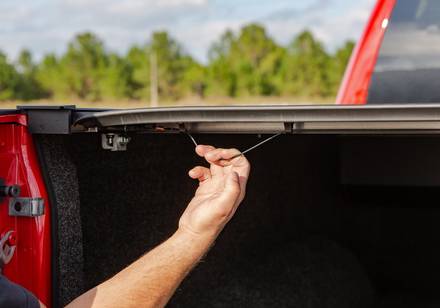 CONVENIENT RELEASE CABLE
The Vortrak can be opened and ready to retract into the canister by pulling the release cable on either the driver or passenger side of the bed. This cable is located underneath the rear of the tonneau, so with the cover and tailgate closed, the cover cannot be opened.
Constructed from 1/2" thick aluminum slats
Matte black powder coat finish
No-drill installation
Release cable opens cover from either side
Pull strap for easy closing
Drain tubes included
Cover can be locked in 2 additional spots
Rolls up into spring loaded canister
2 year warranty
The BAK Vortrak tonneau cover is a retractable cover composed of interlocking aluminum slats. The 1/2" extruded aluminum slats are dent resistant and glide along the heavy-duty aluminum rails as is rolls into the compact canister. The slats form a tight bond to each other, creating a secure, water resistant barrier while the matte black powder coat finish offers great scratch resistance and UV protection.
The mounting rails sit flush with the truck's bed caps to create an extremely low-profile look. When the cover is fully retracted into the canister, you will nearly have full bed access. The canister is spring-loaded to assist in easy operation, and the included pull strap makes reaching the cover from the tailgate a breeze. Also, in addition to locking in the fully open or closed position, the Vortrak can be locked open in two additional places of your choice. To open the cover, you simply pull the cable release from either side of the truck bed and slide the cover towards the canister. Closing the cover is easy by using the pull strap attached to the rear of the cover.
The Vortrak is an easy installation, with no drilling or special tools needed. BAK protects this cover for 2 years.
---